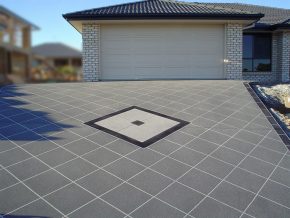 5 Benefits of Concrete Resurfacing
Are your concrete surfaces looking unappealing, old and run-down?  
Worn out concrete can bring down the look of your home but it doesn't have to be a massive hassle and expense to relay it all again.
Concrete resurfacing is a great solution that will enliven your home, make your concrete look fresh and won't break the bank. 
Here are the reasons why concrete resurfacing is a great idea.
1. Cost-effective
Concrete resurfacing is much cheaper than removing your old concrete and replacing it with the new one or a completely different material.  
It allows you to create elegant paved looks, unique sandstone finishes or cozy bricks, at a fraction of the cost of the real thing.
2. Allows a Variety of Designs
Do you want a marble floor without paying the price of actual marble? Or maybe you prefer sandstone, brick, granite, or a specific color? 
The amazing thing about concrete resurfacing is that it can be tinted with special colorants or stamped with patterns or finishes. 
You can customize your concrete floors and develop a unique design and ambiance without paying the price of the expensive materials. Your money is saved on the cost of materials and labor while giving that brand new look to your surface.
3. Increases the Value of Your Home
The benefits of concrete resurfacing go beyond the basic idea of upgrading a floor. It becomes an investment for the home, because it fixes cracked, damaged and worn-out floors to make them look brand new while adding a customized design aspect, which in turn increases the value of the home. 
Concrete resurfacing is also often sealed and has the potential to last longer since it protects from daily wear and tear. You can even add non-slip coatings to your new floor so that it is safe to walk on regardless of how wet it gets.
4. It's Easy to Apply
Self-leveling of the resurfacing products means that you do not have to put in a lot of effort to create a smooth, level surface. 
Instead of spending money on techniques that demand time to fix broken or worn-out concrete, consider concrete resurfacing which is cost-effective and time-saving and at the same time upgrades the look of your surface.
5. Lasts Longer
The concrete resurfacing materials are highly durable and some are even resistant to stain. With this technique, your surface will last much longer.
Concrete resurfacing provides a better quality that will let your new concrete last for a decade. Concrete resurfacing provides the enriching of the quality of the surface, abrasion resistance, and penetration blockage. The concrete resurfacing will also last longer than the original concrete.
Being one of the cheapest options available for floors, having so many different colors and designs to choose from, why wouldn't you choose concrete resurfacing to bring new life to your old floors?