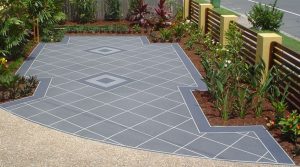 Make Your Garden Stand Out With These 4 Concrete Pieces 
Looking for original ways to design your backyard?
Using concrete in a place made for greenery and natural materials might seem counterintuitive and rigid but there are many different ways in which it can complement your garden.
One of the main benefits of using concrete is that you can create custom made pieces that are original but don't break the bank.
What are some of the imaginative ways you can use concrete that would complement your garden?
Patios
Patios offer a great place for diverse activities. It can be a place of gathering, a dining spot, a place of tranquility or entertainment. 
They are also often built in close proximity to the house rather than in the middle of the garden. That's why they are seen as an extension of your home. 
There are a number of materials to choose from when building a patio. Concrete can be poured or assembled from precast modular slabs, and take on a variety of textures and colors. 
That is the reason for its vast potential for flexible designs. It can be custom made in various unusual shapes and sizes tailored specifically to your available space or combined with different materials such as wood to create a beautiful and modern contrast.
Water features
Ponds, lakes, fountains, water walls, waterfalls, and pools provide statement pieces to any landscape and also offer instant calming effects. The options are endless.
Understated water features can bring small garden spots to life and vast pieces compliment larger gardens and provide variety.
There also offer a great opportunity for variation and creativity. In combination with water, concrete designs stand out and create a contrast between the natural aspect of the water feature and the futuristic look of the concrete design.
Stairs
Since concrete pieces are custom made, it can be tailored specifically to the space you have available in your garden or even used in order to create a structure to your garden that it would otherwise be lacking. 
Stairs are another piece where you can combine different materials to make them stand out. Concrete stairs especially stand out when combined with pebbles, wood or you can get creative and use original pieces as old tyres for the design of stairs.
They are the perfect way of handling a slope on your landscape or create an interesting transition from your house into the outdoor space.
Small decorative pieces
The use of concrete in your garden doesn't have to be limited to big pieces that dominate the landscape. This material will stand out in small decorative pieces and give your garden an unusual touch.
Use small concrete pieces as plant pots, shelves or other pieces of small furniture. 
They provide a space to get creative if you are confident in doing them yourself or shop for smaller pieces that are affordable but give your garden a special touch.
When considering hardscaping options that will best support the way in which you plan to use your garden, talk to a landscape professional who will help you enhance your vision and offer guidance in making them a reality.
Looking for more superior concrete solutions? Chat to the team from KJ Concreting today!