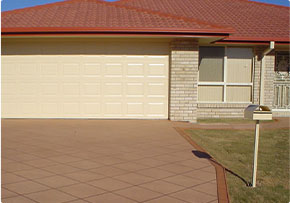 When it comes to choosing a driveway, what is your primary concern?
Do you want something that's going to look the best on the block?
Or maybe something sturdy and cost effective?
Well, whatever your requirements, it's likely that a concrete driveway will be able to meet them all.
Here are a few reasons why you should choose a concrete driveway for your home.
#1 – Practicality
Don't they say, "Ask not what your concrete can do for you, ask what you can do for your concrete"?
Well the answer here is, next to nothing.
For those of you who find that functionality is your main priority, a concrete driveway is a sturdy and easily maintained option.
Your durable concrete driveway starts right from the foundations. When installed correctly, concrete will require little maintenance beyond surface cleaning and you will have a long-lasting driveway that you won't have to touch for years to come.
Concrete is a breeze to clean. Most stains can be removed with a mixture of warm water and detergent or other household items such as vinegar, citrus or bicarb soda.
#2 – All About the Aesthetic
Concrete is a great surface because it is so versatile. While some materials can limit you in their appearance, a concrete driveway means that you can customise it essentially in any way that you like.
Having options for the aesthetic of your driveway is not only a benefit for you as a homeowner, allowing you to put your own personal flair on your property. It can actually improve the value of your home by contributing to the kerb appeal.
Kerb appeal is effectively the property equivalent of judging a book by its cover, but it is absolutely true that the outward appearance of your home has an impact on selling potential. A well-finished concrete driveway in the colour of your choice can tie together the look of your home, ultimately improving kerb appeal and increasing the value of your home.
The final piece of good news here is that if you, or potential buyers, are less than impressed with your colour choice the concrete can be easily tint sealed, or a decorative coating applied to suit your colour preference.
So, what are you going to do today to get started on your new concrete driveway?