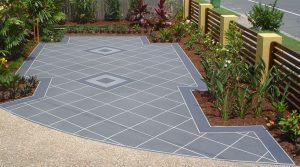 Decorative concrete provides colour and design to liven up your concrete areas. You can choose from many patterns, stencils, or colours. You can also choose a plain colour with flecks of colour on top.
All our decorative work has three coats of sealer to enhance and protect the finish. To keep your decorative finish looking at its best, it is recommended that you have a reseal done every two years.
Our decorative concrete products are proudly supplied by Coloured Cement Industries.
Pre-Mix
Off White
Light Stone
SandStone
Buff
Biscuit
Beige
Rust
Cinnamon
Tan
BurGundy
Pewter
Stone
Salmon
Coral
Coffee
Mango
Pumpkin
Terracotta
Brick Red
Aqua
Green
Heritage Green
Stormy
Marine Blue
Purple
Plum
Blue Gum
Blue Stone
Silver Grey
Charcoal
Black
*While all possible care has been taken to reproduce these colours,K.J. Concreting can not be held responsible for colour variations of the finished product. *colour availability subject to change
We have 4 More colour charts for you to view , Please click on another one below
Plain Concrete

Exposed Concrete

Stamped Concrete

Epoxy Concrete